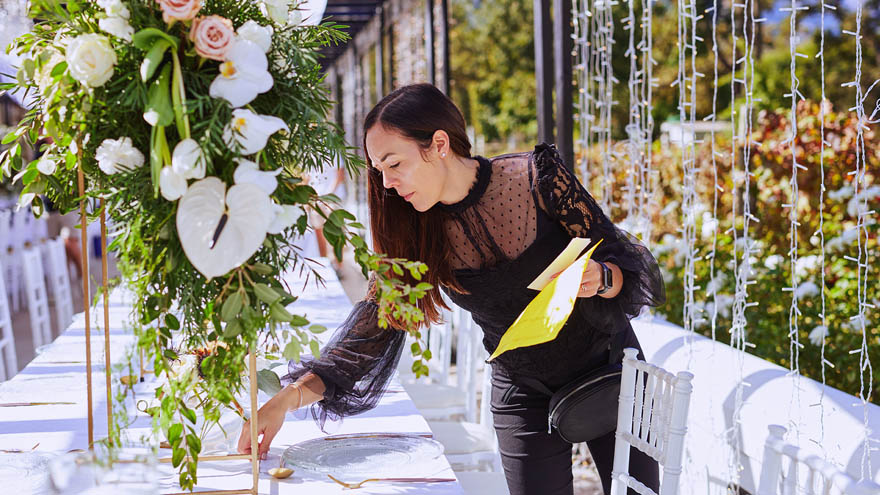 Overview
Explore wedding planning and event operations. Learn the skills for successful events including management, budgeting, logistics, and food and beverage.
What you will learn
Upon successful completion of this program, graduates will be able to:
Describe the event management industry and the variety of events typically included in this sector
Explain how event managers work with vendors and clients to create a food and beverage strategy
Describe how budgets and contracts that reflect a client's requirements are produced, negotiated, and managed
Create an event design based on a defined event's vision, goals, and objectives
Define HR processes with respect to managing and supervising staff and volunteers
Explain best practices to reduce financial, safety, and reputational risks of an event
Outline how schedules and contingency plans that reflect a client's requirements are produced
What to expect
Classes may be offered face-to-face, fully online, or through a blended delivery model, by instructors who are working in a field related to the course content.
Instruction will emphasize practical skill and knowledge development through interactive and collaborative learning activities.
Recommended Characteristics
Interest in the event industry and the needs of clients
Strong oral and written communication skills in English
Ability to work with confidence independently or on a team in a high stress or fast-paced environment
Strong organizational, analytical and interpersonal skills
Ability to conduct themselves in a responsible and professional manner
Willingness to share experiences and reflect on past actions as part of the learning process
Ability to adapt to changing situations and formulate contingency plans
Basic technology skills (e.g., use of Word and Excel)
Fees and other costs
| Fee description | Fee Amount | Notes |
| --- | --- | --- |
| Tuition | $3,807 | |
| College initiative | $37 | |
| Campus resource | $77 | |
| Graduation | $45 | |
| Total | $3,966 | |
Need help with tuition?
---
Explore your options for scholarships, grants, bursaries, and loans.