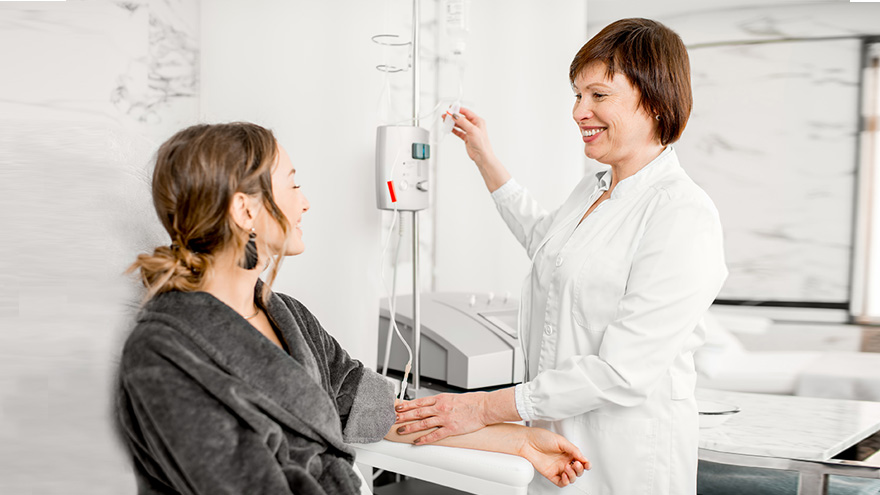 Overview
Learn to safely and effectively operate dialysis machines, work with medical records, and provide care for patients with kidney disorders.
Future Skills Grant Eligibility
Are you a domestic student currently residing in British Columbia?
The Future Skills Grant program may be able to cover your tuition and other eligible fees. Please check our website to determine your eligibility.
All other students may still register for this program through the course links below.
Are you interested in courses and programs for January 2024?
StrongerBC Future Skills Grant funding has been approved for midstream students who started their programs in Fall 2023 and wish to complete their programs in Winter 2024. If you're a midstream student, please contact us at continuingstudies@vcc.ca.
Updated November 27, 2023
What you will learn
Upon completion of the Renal Dialysis program students will be able to:
Prepare, maintain, and troubleshoot dialysis equipment and courses for treatment
Work effectively, ethically, and professionally both individually and as part of an inter-professional healthcare team
Maintain a safe environment by following infection control protocols, occupational health and safety guidelines, and established standards of care
Perform patient care duties within assigned roles and responsibilities
Document observations and care provided according to clinical and agency standards
What to expect
This is a full-time face-to-face program. Days and hours may vary. The clinical placement may include some early mornings and evenings.
The program consists of two courses: theory and clinical. The theory course is delivered through classroom instruction, group discussions, case-studies, and simulations. Students apply theoretical knowledge in the clinical practicum, which takes place in hospital or community dialysis clinics. The clinical course is delivered through clinical instruction and supervision, observation and assessment, daily post-clinical conferences and reflective journaling.
Admission requirements
Grade 12 graduation or equivalent

Proof of English proficiency and English 12 with a 'C+' or equivalent

Biology 12 with a C+, or VCC BIOL 0983/BIOL 0993 with a C+, or equivalent

OACP 1108 Medical Terminology 1: or equivalent, taken within 5 years

MSKL 1104 Interpersonal Communication Skills - Health: or equivalent
Upon acceptance, students will also be required to complete the following:
Criminal Record Check (CRC). Students in this program are required to complete a CRC. The CRC must be completed according to VCC's Criminal Record Check instructions. Students whose CRC results indicate they pose a risk to vulnerable populations will not be able to complete the requirements of the program (e.g. practicums) or graduate.
Current CPR - Level C
Submission of a negative TB skin test. If the skin test is positive, proof of a negative TB chest x-ray is required.
A VCC Immunization Record must be completed. Immunizations in the following are strongly recommended:

Pertussis
Diphtheria/Tetanus
Polio
Measles, Mumps, and Rubella
Hepatitis B
Influenza (on an annual basis)
Chicken Pox
Recommended Characteristics
Good command of oral and written English.
Ability to adjust to work in a hospital setting. Previous health care experience is an asset.
Ability to operate related equipment.
Ability to take initiative, handle responsibility and maintain confidentiality.
Dependable, ethical and respectful.
Ability to work under close direction as a member of a health care team.
Attention to detail, accuracy, patience, and ability to work well under pressure.
Flexibility to adjust to early morning and evening practicum shifts, to a variety of clinical settings and locations within the Lower Mainland area.
Physical ability to carry out the duties of a renal technician, including standing for long periods of time and performing repetitive movements.
Fees and other costs
| Fee description | Fee Amount | Notes |
| --- | --- | --- |
| Application fee | $36 | |
| Tuition | $6,073 | |
| College initiative | $11 | |
| Graduation | $45 | |
| Total | $6,165 | |
Need help with tuition?
---
Explore your options for scholarships, grants, bursaries, and loans.