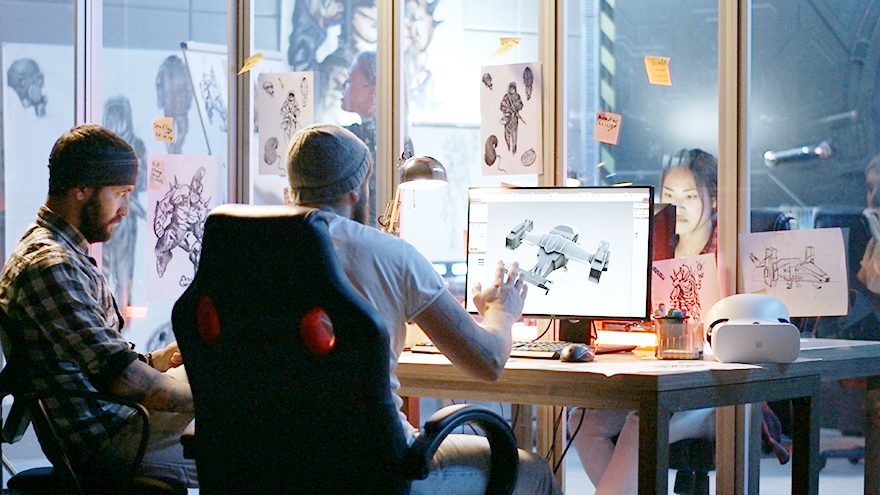 Overview
Gain focused and specialized training preparing for production roles in animation and VFX studios.
Future Skills Grant Eligibility
Are you a domestic student currently residing in British Columbia?
The Future Skills Grant program may be able to cover your tuition and other eligible fees. Please check our website to determine your eligibility.
All other students may still register for this program through the course links below.
Are you interested in courses and programs for January 2024?
StrongerBC Future Skills Grant funding has been approved for midstream students who started their programs in Fall 2023 and wish to complete their programs in Winter 2024. If you're a midstream student, please contact us at continuingstudies@vcc.ca.
Updated November 27, 2023

What you will learn
Upon completion of this program, graduates will be able to:
Explore the interdependencies between people and processes within studio organizations.
Learn the principles and practice of management and leadership as these specifically relate to the world of animation and VFX and the production pipeline.
Hone your scheduling documentation and presentation skills, while learning how to incorporate the needs of diverse audiences and stakeholders.
Develop your communications skills as these relate to both leading and mentoring a production team in a healthy workplace.
Bring it all together in the Workforce Integration course, where you will both reflect on your new knowledge as a whole and put it into practice as you prepare for the industry. Through guidance and self-reflection, including a personal strengths and development plan, you will leave with an individualized plan for succeeding in the job market.
What to expect
The micro-credential will be offered part-time, to support working professionals who are seeking reskilling and upskilling opportunities for their career.
Classes will be a combination of face-to-face and fully online in a blended model, delivered by instructors and guest speakers with working experience in this field.
Instruction will emphasize practical skills and knowledge development through interactive and collaborative learning activities, including case studies and independent research.
Fees and other costs
| Fee description | Fee Amount | Notes |
| --- | --- | --- |
| Tuition | $1,879 | |
| College initiative | $17 | |
| Campus resource | $38 | |
| Total | $1,933 | |
Need help with tuition?
---
Explore your options for scholarships, grants, bursaries, and loans.