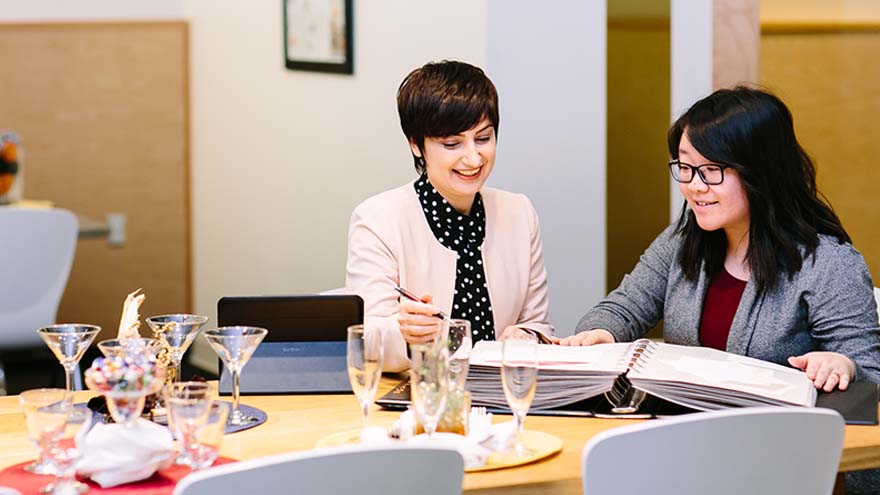 Overview
Learn the broad range of skills needed to professionally manage weddings and events including logistics, marketing, décor, and cultural traditions.
We are excited to be renewing the Wedding and Event Management Certificate. The new program will launch in 2023.
If you are a current student in the Wedding and Event Management certificate, please reach out to weddingevent@vcc.ca to address your individual program completion needs.
For new students, there are still individual wedding and event courses available for registration here.
What you will learn
Leadership and communication skills
Logistics for local and destination weddings and events
Themes, cultures, traditions, and protocols
Marketing strategies and planning
Public relations and social media
Pricing and product distribution
Vendor and supplier contract negotiation
Food and beverage requirements
Décor, flowers, hair and makeup
Photographers and entertainment
Business, financial, and legal documents
Contingency planning
Ethics, professionalism, and workplace standards
Business mathematics and event costing
What to expect
Lectures and demonstrations
Group activities
Individual and group projects
Field trips
Practical assignments
Theory and/or practical exams
Admission requirements
Vancouver Community College is a post-secondary institution committed to educating adult learners. Applicants should be 18 years of age or older, or a secondary school graduate.
Recommended Characteristics
Willingness and ability to reflect on their own practice
Ability to apply a concept (idea/vision) to an application (event)
Analytical skills
Ability to conduct research and apply findings to specific projects
Familiarity with business English
Effective oral and written communication skills
Strong presentation skills
Comfortable planning and working independently
Able to adapt to changing situations and formulate contingency plans
Fees and other costs
| Fee description | Fee Amount | Notes |
| --- | --- | --- |
| Tuition | $4,286 | |
| College initiative | $39 | |
| Campus resource | $171 | |
| Total | $4,497 | |